Human Trafficking
The term "human trafficking" means to recruit, to move from one place to another either within or outside of a country, to house or to receive someone using threats or force or any other form of coercion to exploit them for profit (prostitution, forced labour, sale of organs, etc.).
Human trafficking should not be confused with illegal trafficking of migrants, which involves transporting people, whereas human traffickingimplies exploitation.
Human trafficking is one of the most serious criminal activities in the world, in the same category as drug and arms trafficking.
It is a criminal offence as defined by the Penal Code (articles 382-1 and 55) and is subject to severe consequences (3-10 years in prison and fines up to €100,000).
Read More
Multiple Forms of Human Trafficking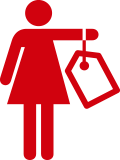 Sex Trafficking
Human trafficking for sexual exploitation means to recruit, to move from one place to another, to house or to receive someone in order to force them into prostitution and illegally earn a profit from their activities.

Most victims of trafficking in Europe come from Eastern Europe, Africa, China and Latin America.

Generally young and from poor areas, these victims are recruited in their home country by individuals, some of whom belong to organised networks, who lure them away with promises of a job in the European Union. The victims are then subject to a conditioning process that puts them and/or their families under physical and moral pressure. Powerless, deprived of their liberty and identity, isolated in a country where they don't speak the language, they are treated like merchandise. They are exploited by a pimp who demands high sums as repayment for their so-called debt.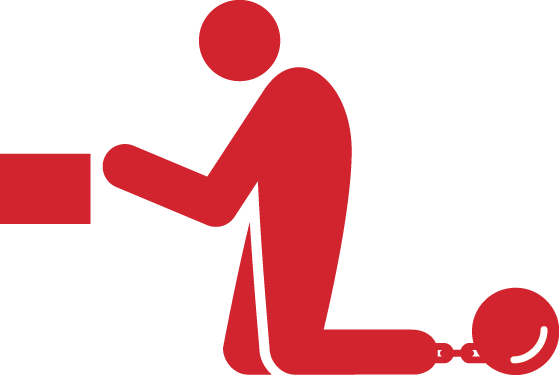 Forced Begging
When it comes to forced begging, the greatest challenge is identifying whether a person begs for his or her own family without external pressure or is obliged to collect a certain amount each day.

Because it can be hard to tell whether a person is begging for purely economic reasons, forced begging often looks like a form of family exploitation. However, it can generally be traced back to a larger organisation that combines other forms of trafficking.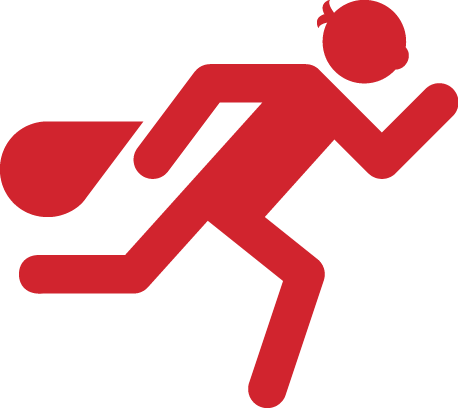 Forced crimes or misdemeanours
Victims may be forced to steal from stores, commit burglaries, sell drugs, traffic weapons, counterfeit merchandise, embezzle funds, or steal credit cards online.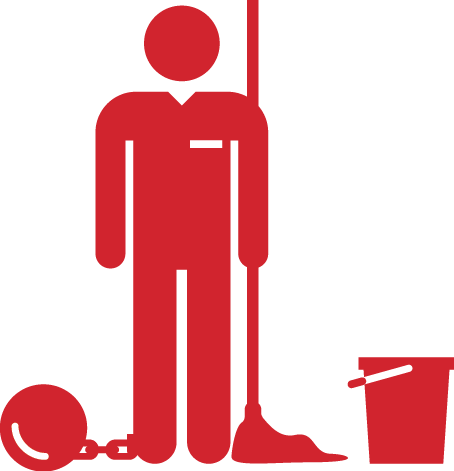 Trafficking for labour
Cases of human trafficking for labour involve a person who has been recruited, transported and/or housed for the sole purpose of exploiting his or her labour with a general disregard for basic labour rights. In many cases, the trafficker is also the one benefitting from the fruits of the victim's labour or even the labour itself. The trafficker may also be part of a larger network. In this case, his or her role is limited to recruitment, transport or housing the victim for the exploiter. The most affected industries are construction, caregiving and childcare.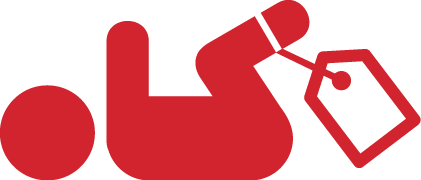 Child Trafficking and Sale of Children
A "child trafficking victim" is anyone under the age of 18 who is recruited, transported, transferred, housed or received for exploitive purposes, within or outside of a given country.

The "sale of children" refers to any act by which a child is handed over to another person for money or other profit.

This type of trafficking often exposes children to violence and sexual abuse and infringes their right to protection, to grow up in a family setting, and to access education.
Characteristics of Human Trafficking
Exploitation
Human trafficking victims are exploited through prostitution, forced labour, organised begging, and coercion to commit crimes or misdemeanours. Victims live under restriction and are sometimes held captive or abused.
Recruitment
Victims are often recruited with false promises, such as for a job or study financing. Other times they are seduced or kidnapped.
Transport
Victims may be transported from one country to another, with or without papers, and often under difficult conditions, hidden in cars or trucks.
Housing
Victims are often forced to live in unsuitable conditions and under their exploiter's control.
How to act?
1
Identify
Victims of human trafficking can be found in many different situations.
One or more of these signs could indicate that a person is a victim of human trafficking:
Hover over the icons to learn more.
Tap the pictograms to learn more.
Imprisonment

The person cannot or feels that he/she cannot leave the work environmen
The person seems to be under surveillance
The person has little to no social life or outside contacts

Constraint

The person thinks he/she is obligated to work (out of fear, debt, etc.)
The person allows someone else to speak on his/her behalf
The person acts as if he/she has received orders
The person is punished if he/she doesn't perform a job well
The person is dependent on someone else

Fear

The person shows fear or anxiety around other people at work
The person is wary of authorities out of fear of being caught (fear of retaliation or being expelled)

Violence

The person is subject to violence or threats against themselves or those they love
The person shows signs of abuse
The person is subject to insults or bad treatment
The person's living or working conditions are unsuitable (workplace, hours, etc.)

Unstable situation

The person does not have identity papers
The person does not speak any of the languages spoken in Luxembourg
The person does not know the address of his/her home or workplace
The person receives little to no salary
The person does not have access to medical care
2
Act
Police Grand-Ducale
If you notice any of these signs and suspect human trafficking, please contact the national Police at 4997-6210 (during office hours) or call 113 (outside of office hours). You may also send an email to traite@police.etat.lu
OR
Help for Victims of Human Trafficking
You may also contact one of the Help Service Centres for Victims of Human Trafficking.